CLIENT
Consult Australia via Champions of Change Coalition.
Consult Australia is the peak body for the Built Environment industry which includes businesses providing design, advisory, and engineering services including large government public works projects to private sector projects in the built and natural environment.
PROBLEM/CHALLENGE
Gender imbalance at senior levels within organisations (notably male-dominated industries such as engineering, construction and the built environment) – Structural barriers to progression – Underrepresentation of females in senior management – Unclear pathways for female progression.
SOLUTION
Consult Australia (through its Champions of Change Group) appointed Cultivate Sponsorship to build a customised sponsorship program to increase the proportion of women promoted and retained into leadership in member firms such as AECOM, GHD and Jacobs through effective sponsorship for all talent.
OUTCOMES
Recognition of the barriers to progression pathways – Retention of female talent in senior positions across participant companies – Building leadership capability and confidence to have the conversations needed and effectively advocate for sponsees across the business – Creating a culture of sponsorship that benefits all talent.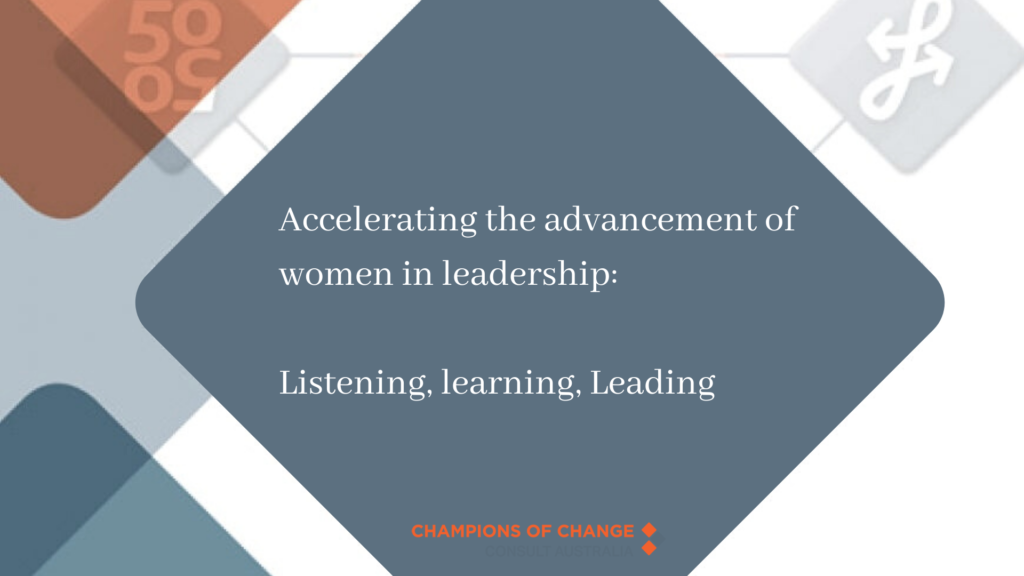 IN-DEPTH ANALYSIS
Studies have shown that organisations are increasingly seeing the value of having women in more senior roles; however, they are continually underrepresented at every level. In the latest results from WGEA's gender equality analysis, women only hold 14.6% of chair positions and represent 18.3% of CEOs (WGEA, 2020)
These statistics prompt questioning around where women halted, where do the internal barriers exist?
McKinsey and Co's Women in leadership study uncovered that the biggest obstacle to advancing their careers is not at the "glass ceiling" but at lower levels of the organisation, in the first step from mid-level employee to senior manager. A key strategy to break down this barrier is to prioritise women's sponsorship, particularly by prominent (often male) leaders. A deliberate focus on building sponsorship relationships that help pave clear paths from one to the other is an effective strategy for progressing female talent.
"The actions and initiatives of Consult Australia Champions of Change (aim for) a profound shift in the leaders' mindset and the organisations they head. We have moved from words to demonstrable action, breaking down cultural and systemic barriers to the participation and promotion of women" – Megan Motto, Convenor, Consult Australia Male Champions of Change, CEO, Consult Australia. [Consult Australia MCC Progress Report 2018]
CACCC members; AECOM, GHD and Jacobs each committed three sponsorship pairs to Cultivate's program, including 3 Sponsors (CEO + 2 executive-level leaders) and 3 Sponsees (identified high potential, senior females). Participants engaged in a 12-month program including 24-weekly modules of curated learning content and reflective activities designed to:
Build empathy and understanding between the Sponsor + Sponsee
Provide a platform for high-quality discussions to activate the role of the Sponsor.
Progress the career path of the Sponsee.
In pursuit of accelerating gender equality and women's influence in the industry, the program is designed to address the challenges and barriers impacting women in the male-dominated industry from within and not about 'fixing women' as some development programs are perceived to be. The benefits of sponsorship were felt across the board from participating members: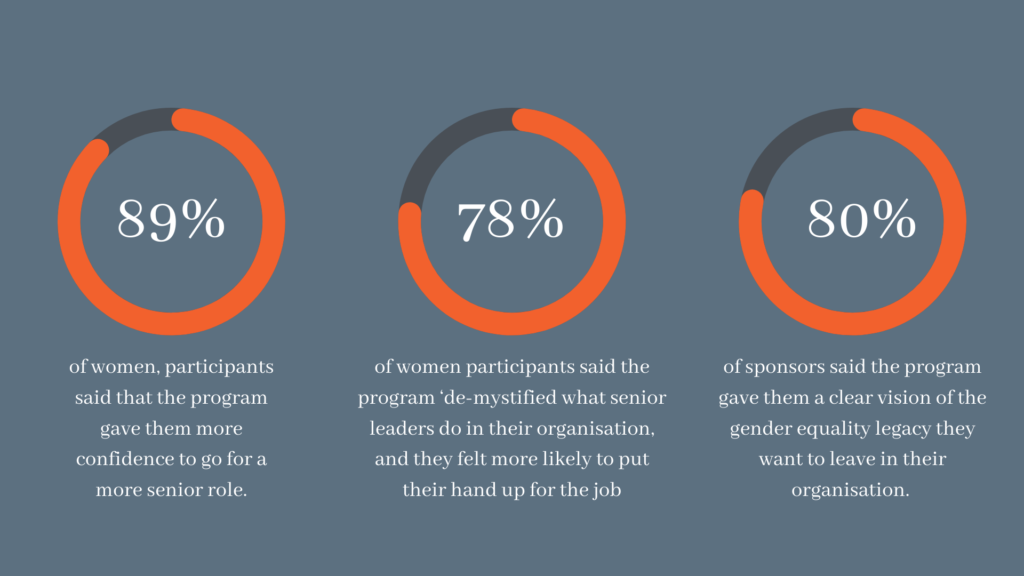 Female participants noted that they felt that communication barriers between senior management and them were dissolved, they had greater confidence in their long-term goals with their respective company. Further, the program revealed deep insights into their personal capabilities that resonated with senior positions, notably initiating the acceleration of gender equality and women's influence in each company.
"I'm particularly proud of the implementation of Cultivate, our sponsorship program connecting emerging female leaders with members of the senior leadership team. Sponsorship is an important strategy to overcome biases and systemic barriers to women's advancement and plays a key role in our objective to achieve gender balance in leadership. I look forward to building a culture of sponsorship and to seeing our female leaders flourish as a result. The program will have a profoundly positive impact on the business as a whole and help to accelerate the advancement of women in leadership roles." – James Phillis, CEO of SMEC ANZ [Consult Australia Champions of Change Progress Report 2020]
Following the successful pilot program, several CACCC member companies have continued to roll out our Cultivate Sponsorship program annually. AECOM and GHD are two market leaders in their commitment to gender equality and have continued to nurture a culture of sponsorship with Cultivate, smashing barriers to female progression and allowing talent to thrive in their organisations.
Want to know more about how sponsorship can work for your business? Contact us
Reference: https://www.wgea.gov.au/publications/gender-workplace-statistics-at-a-glance-2020